Customer Downloads
Downloads are available after checkout, and are stored in the My Account section of a customer's login. Customers can also link to the download from the Order Confirmation Email. They are itemized in the Order Items section of the Order Manager.
Website Display
The web product page for download purchases include the following display options:
Separate product page:
Formats presented in a drop-down or radio button
File formats sorted by Position if specified, otherwise by format ID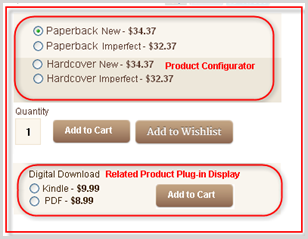 Embedded within related product page:
Allow Format Selector and Add to Cart button to be displayed for this related product
Selection of Format may dim/hide add to cart button on "parent" product.
Order Checkout Complete Page
Once the purchase is complete, customers can download digital items from the Checkout Complete screen. Click on the Download link and a pop-up displays with the following information:
Expiration Date
Downloads Remaining
Format Selector
Download button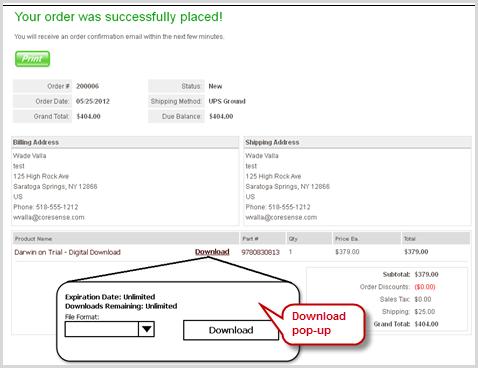 Order Confirmation Email
The Order Items tag in the order confirmation template, includes a "Download" link on all Digital Download items. Clicking the link forwards the customer to the log-in screen of the website.  Once logged in, they land on the My Account page.
Automatic email for first eBook order:
If customer orders a digital book for the first time, they receive an automatic email of a template named, "First Digital Product Purchase Email Template".
The customer receives this email IN ADDITION to the website order confirmation, not in replacement of.
If it is not their first time, the customer receives the standard website order confirmation email.
My Account Page
Customer downloads are stored under the My Account > My Orders section of the website, and cited under Order Items in the Order Manager.  Items are sorted most recent based on Order Date.

Kindle Address
There is a "Manage My Kindle" for customers with Kindle accounts so that when the customer orders a Kindle eBook, they receive an email to the Kindle addresses listed in their account.
Sales Order Interface
Digital Downloads can be sold on the SOI with the same rules used on the website.
Ability to return products based on a search of Product Type = Digital.
Ability to select a file format on the order item screen.
When only digital products are being purchased, a shipping method doesn't display.
Ability to email the download link to the Shipping Email contact upon placing the order.
Note: Remember to assign the products to the SOI sales channel.
Order Manager
Within the Order Manager > Order Items, Back Office users can add additional digital downloads (not available via SOI) and change the download quantity. The purpose is to allow customer service to adjust should an attempted download fail, or the downloaded file was corrupted, etc., and the customer has already reached the max download quantity for the file.
| | |
| --- | --- |
| Step | Action |
| 1 | Open order in Order Manager. |
| 2 | Click on the hammer/wrench icon to open product configuration view. |
| 3 | Adjust download counts as needed and click on Update Order Item. |